News
Labwit Scientific attends Arablab 2017 in Dubai.
Dubai, UAE, 20-23 March, 2017, Labwit Scientific once again has exhibited at this year's Arablab show, held every year at the Dubai World Trade Centre. This was Labwit's third event as an exhibitor at Arablab. The Arablab show is considered as one of the largest and most important lab scientific technology trade fairs in the world. At Labwit's first two shows in 2011 and 2015, the company only had very small booth. But at this year's exhibition Labwit was proud to have 10 equipments on display with a quadruple sized booth!
Labwit displayed a wide variety of lab equipment at this year's show. Of particular interest to customers was Labwit's new ZWYC-290A, Ultimate-Cell stackable shaking incubator, a product that was 4 years in development. This Ultimate-Cell ZWYC-290A features a collection of new features that would offer comprehensive solution to those applications where shaking incubators are essential. A combination of temperature, speed, photosynthetic lighting, active controlled humidity, and CO2 concentration control are the state of the art of this particular product segment.
Moreover, Labwit has launched a series of products with brand-new design with refreshing new looking. As the key product range, the Labwit shaking incubators have been one of the most popular choices of its range. The premium ranges offers comprehensive choices for different applications, from heating only model to cooling models, from benchtop to large double layers range, and with bunch of new options. All premium models displayed during the show features touch screen control panel, flexible control mode of both fixed value and programmable mode, and built-in printer for data-log, auto-defrosting cooling system for hassle free long term operation at low temperature.
During this four day show, along with the new catalogue, Labwit has attracted over 300 visitors from more than 30 countries & regions. It's no doubt that this particular event has been one of the biggest shows of the Labwit. Arablab has seen the continuing growth of Labwit since first exhibiting in 2011. We look forward to seeing you again at future Arablab!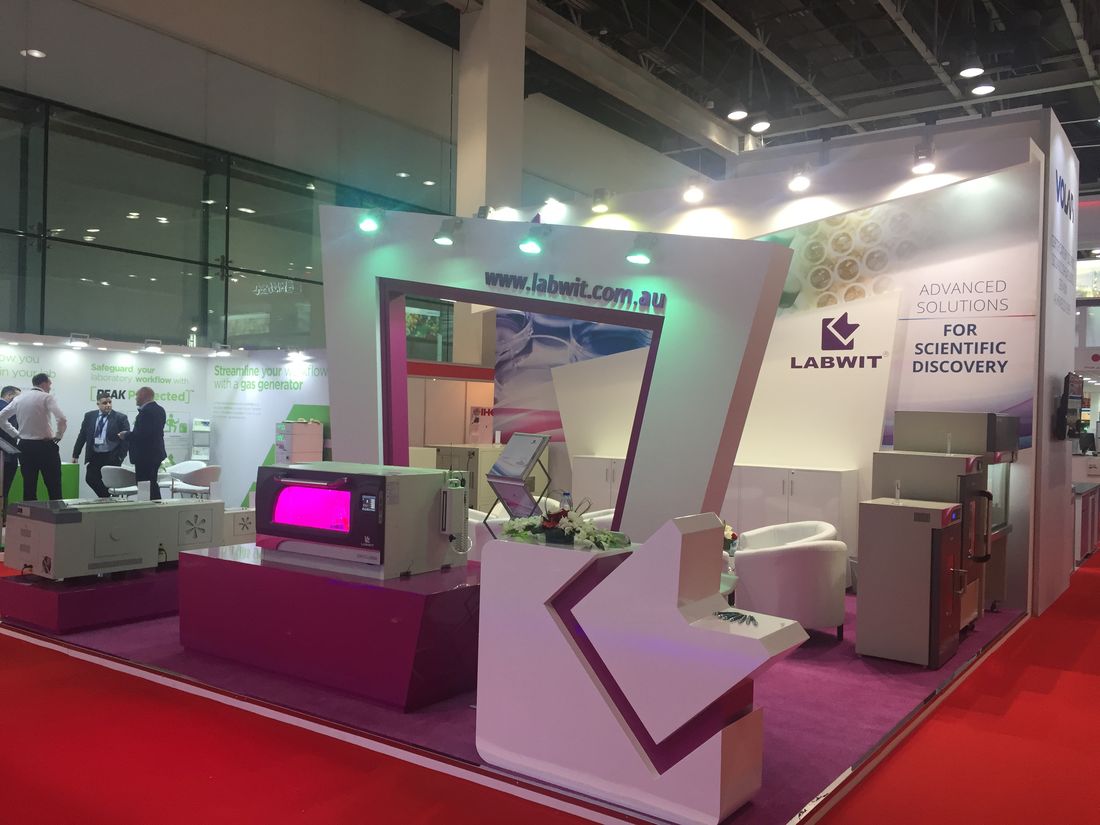 ---
NEW!!! ZWYC-290A Ultimate-Cell Stackable Shaking Incubator:
Thanks to the ongoing development of both technology and functionality requirements from our industry, Labwit has been thriving to innovate and is now able to offer our latest and comprehensive solution for microbial, mammalian and plant cell incubation needs, the inspiring ZWYC-290A Ultimate-cell Stackable Shaking Incubator.
The spaces in the labs are spacious and expensive, The ZWYC-290A can be stacked up to 2-3 units high to offer multiplied incubation capacity on a single unit footprint. Stacking also can be easily managed at a later time. Each compartment unit operates independently with cooling as standard, and can be upgraded with modular controlling options of, active humidity control, CO2 concentration controls. In addition, Ultimate-cell is also available for WiseKonect PlusTM system option for remote monitoring and controlling the unit via PC or Smartphones at any time anywhere. The introduction of fingerprint encrypted system prevents unauthorized access to the working chamber, hence significantly enhancing the security of the precious samples inside.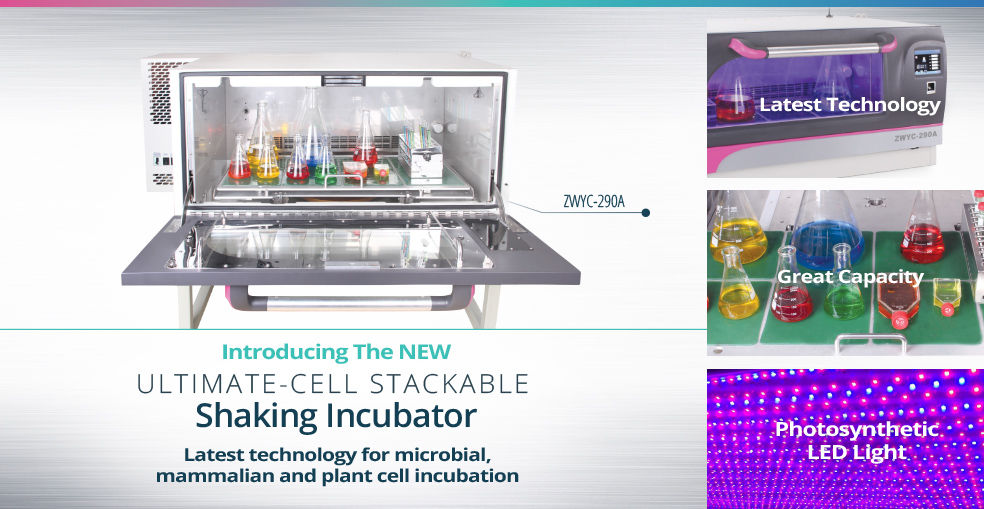 For Information, please visit:
http://www.labwit.com.au/ultimate-cell_shaking_incubator.html
---
Introducing ZWYR-D Stackable Shaking Incubator:
Advanced Expert for Your Cell Culture Incubation!
LABWIT introduces premium stackable shaking incubators, which has been specially designed for modern labs of versatile functional requirement but with limited space. This ZWYR-D series shaker can be stacked up to three units high, providing laboratory professionals tripled culture capacity, while still only occupying the same ?footprint? of a single shaker. Units are available in single, double and triple stacks.
This series features large touch screen panel clearly indicates all parameters in one page display. With PID and fuzzy logic to control temperature, the unit creates perfect temperature condition ranging from 4-60? with 0.1? accuracy. Each stack unit features fully insulated, fold-down door with double-glaze glass window for high visibility. On all refrigerating models, microprocessor controller provides unmatched versatility by enable users to create personalized program (with up to 9 segments, with cycling) to automate changes to function parameters on a time-basis.
The dedicated sliding shaking platform provides convenient access to your experiment products. Heavy-duty, eccentric drive mechanism allows extended speed ranges from 30 to 300rpm, ±1 rpm with minimized vibration, even when shakers are stacked of three high. Robust brushless AC motor enables shaking motion quiet and smooth, even when unit is operating at top speed with maximum workload. Interior chamber light enhances observation.
This shaker has a range of safety features. For example, non-volatile memory saves settings during a power outage and automatically restarts the unit after power is restored. Heater shuts off when high-temperature limit is exceeded. Shaker stops when excess vibration is detected or when door is opened. Audible and visual alarms alert user of setpoint deviations, and can be muted.
FInd out more details via the below link:
http://www.labwit.com.au/shaking_incubators.html
---
Latest Labwit General Catalog is Now Available
Labwit Scientific is proud to announce that our 2016 edition of the Labwit general catalog is now available
In this version we have introduced a host of new products. Labwit is excited to introduce new laboratory drying ovens to our ever expanding product range, as the upgraded version of ZXFD/ZXRD-A series, B series drying ovens, feature more stylish design, and "Push & Catch" air tight door system, with all sophisticated functions from the last version.
We are proud to showcase our new ZOCR Series direct heating CO2 incubators. This new product has been carefully engineered and proven to provide clean, reliable and easy-to-use environment control to protect your samples and optimize cell growth. It features large smart touch screen panel, precise parameter controlling system, as well as superior contamination controlling features. Moreover, thank for the new wireless communication technology, the WiseKonectTM data connection kit option will surely make this new product impressive.
All Labwit products are designed, manufactured and marketed in an ISO9001:2008 environment. Every step from new product development to after sales service follows documented and traceable procedures. The result is a quality focused culture committed to total customer satisfaction. All electrical products produced by ZHICHENG conform to the latest safety directives including CE requirements. For total compliance, all products are tested and approved by the fully accredited external test agent, DNV.
All the products featured in this catalog are available through a worldwide network of distributors. Technical advice and guidance on product selection is available from our qualified distribution partners. Our aim is to provide the very best laboratory equipment for you, for everyone, for better solution.
View and Download Full General Catalog 2016 Version!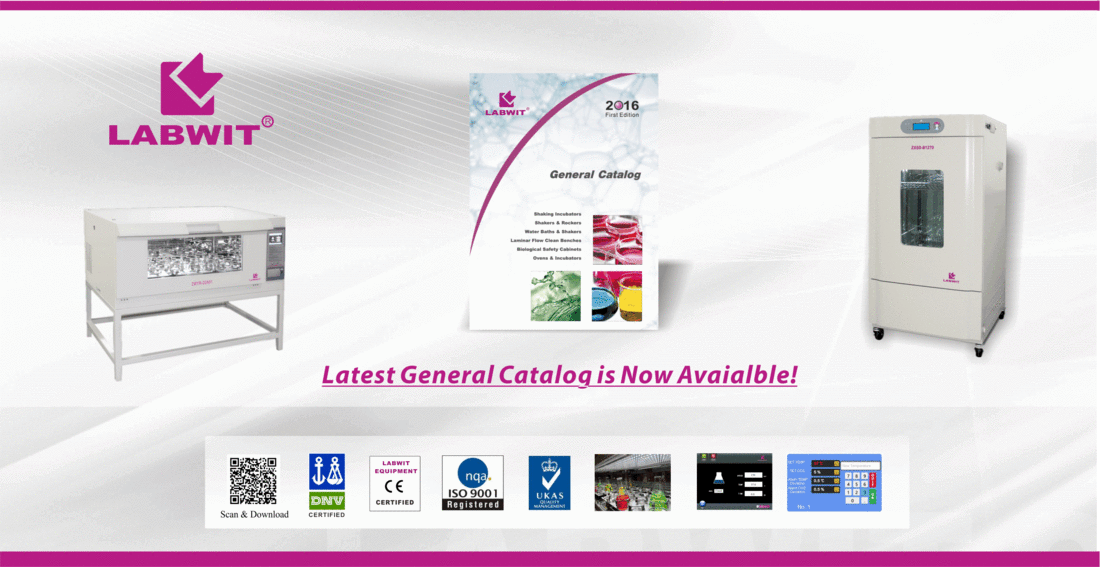 ---
See Us in This New Year -- Exhibitions for 2015
Labwit Scientific will be exhibiting at a number of trade shows this year. Join us at the following events, stop by our booths to see the latest products and services from Labwit Scientific and meet our product specialists.
View our full list of upcoming and past exhibitions
---
Proudly Introducing New "B" Series Drying Ovens ?
Labwit is excited to introduce new laboratory drying ovens our ever expanding product range. As the upgraded version of ZXFD/ZXRD-A series, B series drying ovens feature more stylish design and ?push & catch? air tight door system, with all sophisticated functions from last version. B series only available on all 200°C models.
View our complete range of drying ovens via this link.

---
Visit us to see our NEW CO2 incubator at Combio 2013!
Find us at the Combio 2013 at the PCEC in Perth from 30, Sep to 2, Oct. Come and visit us at Stand #16 and win one of our mysterious prize!
Click here for more info about our ZOCR CO2 incubator.
---
Official Website has now launched!
We are pleased to announce that the official website of Labwit Scientific has been launched. This website is made to provide more company and product information in order to accommodate rapid market growth and to improve our service for customers.